FREEDOM QUEST AMERICA
Look at what you will learn by taking Freedom Quest America's "Eagle Seminar".
How and why we must keep our politicians accountable to protect and keep our values and freedoms.
How and why we must study and engage all politicians who want our trust and vote.
Why we don't just vote for the candidate, but for the right team that matches your own values.
How to increase your financial intelligence and learn from the experts.
How the only way to pursue happiness is by pursuing and discovering your "God-given Purpose".
Learn the truth about Free Enterprise and Socialism - which is really better for you.
Create and live in your own Journey of Promise (JOP). Hint - it starts with your DREAM.
Benefit and prosper from the 3 Big Trends and Major Shifts that are changing America TODAY.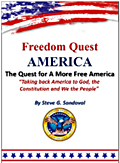 Free Download - Freedom Quest America eBook